Morris Animal Foundation's Scientific Advisory Boards ensure the Foundation upholds its mission to bridge science and resources to advance the health of animals by reviewing and recommending studies for funding.

Approved applicants are included in the general support group and can then serve as volunteers in different areas as needed or as interests indicate.

As our funding programs grow and demand for scientific reviewers increases, we are expanding our network of volunteer scientists and experts through our new Animal Health Advisory Council (AHAC). Successful AHAC applicants will join other scientific experts for specific assignments in which they have expressed interest (listed below), or to provide general support.

While we encourage all interested scientists to apply, we currently are seeking expertise in the following areas:
ANIMAL ETHICS & WELFARE

 | 

CANINE HEMANGIOSARCOMA & ALL CANCERS

 | 

 

CLINICAL PHARMACOLOGY 

 |  

GENETICS  

|

GENOMICS 

|

  PROTEOMICS 

|

 

EQUINE OTHOPEDICS

 

| 

ECOSYSTEMS BIOLOGISTS

 | 

SHELTER MEDICINE

 |

CLINICAL & ANATOMICAL PATHOLOGY

 | 

VETERINARY EDUCATORS WITH EXPERTISE REVIEWING MENTORSHIP PLANS
*Before applying, please read our Frequently Asked Questions.
ANIMAL HEALTH ADVISORY COUNCIL STRUCTURE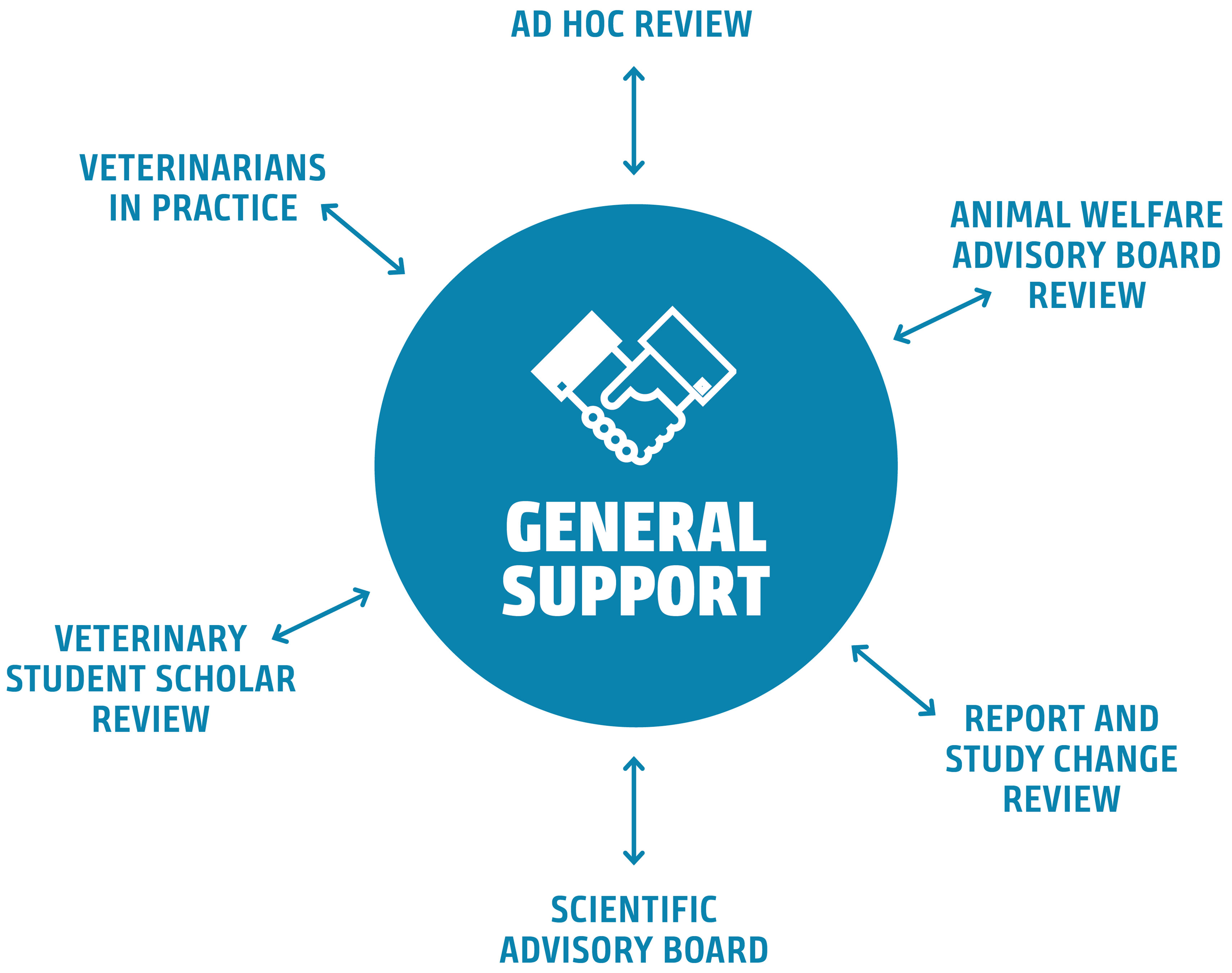 AVAILABLE ASSIGNMENTS
SCIENTIFIC ADVISORY BOARD MEMBER:

Scientific Advisory Board (SAB) members provide technical and feasibility review for proposals submitted in response to a specific Request for Proposals (RFP). Written comments are shared with applicants and numerical scores are submitted that contribute to the overall proposal ranking.

Traditional RFPs (canine, feline, equid and wildlife) historically attract the largest numbers of proposals. SAB reviewers may be asked to provide primary review for up to five proposals and secondary review for up to an additional five proposals. Traditional SAB meetings are conducted remotely (via Zoom) and may take up to 15 hours over two days. Other RFPs hosted by the Foundation typically involve review of fewer proposals, and meetings usually are completed in eight hours or less.



AD HOC REVIEWER:

The Foundation uses ad hoc reviewers when a specific area of expertise is not represented on a Scientific Advisory Board. Ad hoc reviewers typically review one to three proposals and join the SAB review meeting for 15 minutes per proposal.



ANIMAL WELFARE ADVISORY BOARD REVIEWER:

The Animal Welfare Advisory Board (AWAB) is comprised of behavioral, welfare and ethical experts who review all proposals recommended for funding, paying specific attention to the justification for animal use. Review by AWAB ensures all Foundation-funded studies adhere to the Foundation's Health Study Policy for Animals Involved in Research.



VETERINARIANS:

We welcome veterinarians from primary care or specialist practice to attend SAB review meetings and contribute to the discussion regarding the clinical relevance of the proposals being considered.



VETERINARY STUDENT SCHOLARS REVIEWER:

Veterinary Student Scholars (VSS) is a competitive program that provides veterinary students a stipend to participate in mentored research advancing the health and well-being of dogs, cats, equids and wildlife. The VSS committee is responsible for reviewing VSS applications annually and providing that information to the Foundation. There is no SAB meeting for VSS proposals.



GRANTEE PROGRESS REPORT AND STUDY CHANGE REVIEWER:

Scientific reviewers support the Foundation's programs by assessing progress reports from grantees and by evaluating requests for study changes on an ongoing basis.