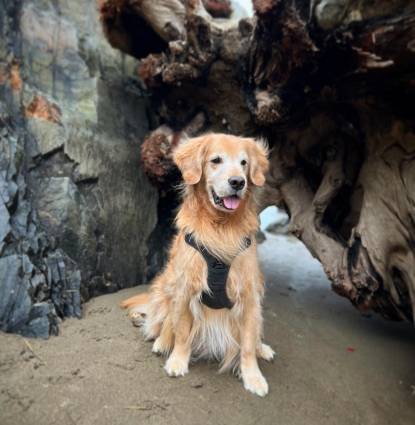 Reser was in his first play at 9 weeks old, a wonderful trick dog and dabbled in agility. He was Jenn's comfort and support after losing Parker in January 2020, then her quarantine buddy back when everything shut down and we all worked from home. He was silly and boisterous, always up for an adventure. He played the part of Magic for KGW-TV in 2020 and even landed on CBS prime time. He starred in multiple viral videos. But most importantly he was Hero # 1273 in the Morris Animal Foundation Golden Retriever Lifetime Study. Tomorrow he will give his final gift to the study. His precious, tired body will be transported to Oregon State University - the campus with Reser Stadium after whom he is named - where they will collect samples to learn more and help dogs everywhere. Cancer SUCKS. Tonight he is running free of pain at the bridge with Parker. 
Hero
Loved
Beloved Companion
Remembering and honoring you every day, in many different ways
Reser was so loved and adored. He will always hold a special place in my heart. Thank you Reser, for all of your contributions to finding a cure. I will miss you.
Reset was a pillar in McFarling clan. He will be missed, but always loved by his family and his many friends.
Thank you for all the smiles Reser, you are missed! ❤️
Kim Hersh donated in honor of Reser
The journey through grief is different for everyone, but we know support, community and sharing stories help make the experience one of remembrance, renewal and even celebration of the life lost. We hope you find comfort in the memorial you've set up for your companion and encourage you to share with family and friends so they can show their love and support.