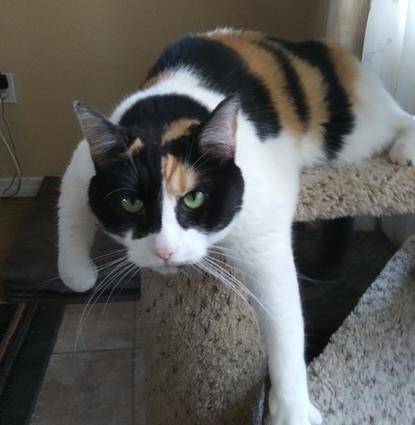 Leilani was born on July 24, 2010, and we adopted her the following September when she was eight weeks old. She was a tiny kitten who fit in the palm of one hand, but was a very bold and sassy calico! She would growl while she was eating, surely to keep our other, larger, cats at bay while she enjoyed her meal. She learned to mimic human language and would meow twice after someone sneezed as if to say "Bless you." We could even have interactive conversations with her where she would respond to yes/no questions with a short meow and more open-ended questions with longer chatter. She's the only cat I've ever known who did this. She always retained a certain wildness and was always skittish. However, over the years she became very bonded with my husband and I and eventually came around to doing domestic things such as sitting with us on the sofa. She loved playing with her brothers from another mother and palled around with our labrador retriever. (I think she learned that her feline brothers wouldn't bother her when she was near her much larger brother!) She left us on May 13, 2022 at age 11. Our hearts are broken, and we miss our baby girl more than anyone can ever imagine. Love never dies.
Little One
Baby Girl
Sassy
Remembering and honoring you every day, in many different ways
Elizabeth Gouveia Miner donated in honor of Leilani
The journey through grief is different for everyone, but we know support, community and sharing stories help make the experience one of remembrance, renewal and even celebration of the life lost. We hope you find comfort in the memorial you've set up for your companion and encourage you to share with family and friends so they can show their love and support.