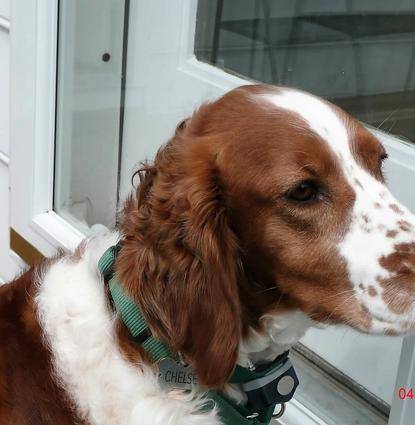 Chelsey was our fifth Welsh Springer who came to us at age 2.  She brought us SO much joy over the nearly 12 years that she was a part of our family.  Welshies are called "velcro dogs" because they always want to be with their family, no matter where they are..in bed, in the bathroom or just sitting quietly by our side.  If we were out of sight, she always would come looking for us.  That was our girl too.  
After our trip to Holland where we discovered Stroopwafels (a Dutch treat) Chelsey and my husband developed a morning ritual where they shared pieces of stroopwafel.  It became a daily tradition after we ground the coffee beans that signaled time for the "cookie"  It still brings a smile to both of us when we think about it. 
Because we are both retired and home a great deal of the time, our bond with Chelsey was especially tight.  She, too, was a homebody at heart, racing home after our walks.  Her presence and spirit continues to be with us every single day.  We miss her terribly. 
Special girl
Adored
Cherished
Remembering and honoring you every day, in many different ways
The journey through grief is different for everyone, but we know support, community and sharing stories help make the experience one of remembrance, renewal and even celebration of the life lost. We hope you find comfort in the memorial you've set up for your companion and encourage you to share with family and friends so they can show their love and support.