GOLDEN RETRIEVER LIFETIME STUDY - DATA AND SAMPLES AVAILABLE FOR RESEARCH
The Golden Retriever Lifetime Study is a longitudinal study established in 2012 with a cohort of 3,044 dogs at full enrollment in 2015. Primary Study endpoints include lymphoma, hemangiosarcoma, high-grade mast cell tumors and osteosarcoma. Secondary Study endpoints cover a variety of diseases affecting the breed, including other cancers. Now in its 10th year, the Study provides a rich data set for researchers from universities, nonprofit and governmental organizations as well as private industry.

Dog owners and veterinarians are completing annual questionnaires, clinical exams and sample collection over each dog's lifetime. These data and samples are now available for research questions in areas such as genetics, disease conditions, environmental factors, nutrition and behavior to improve canine health. While the Study was established to determine risk factors for major cancers, the data and samples can be used to explore many other aspects of canine health. All applications must be received through Fluxx.

The application period for data and/or samples is currently closed. The next cycle will open Aug. 15, 2022. However, industry and for-profit organizations may apply for research partnerships year-round.
APPLY FOR:
PROPOSAL APPLICATION FLOWCHART
Below you will find a flowchart that describes the process for a typical university-based research proposal.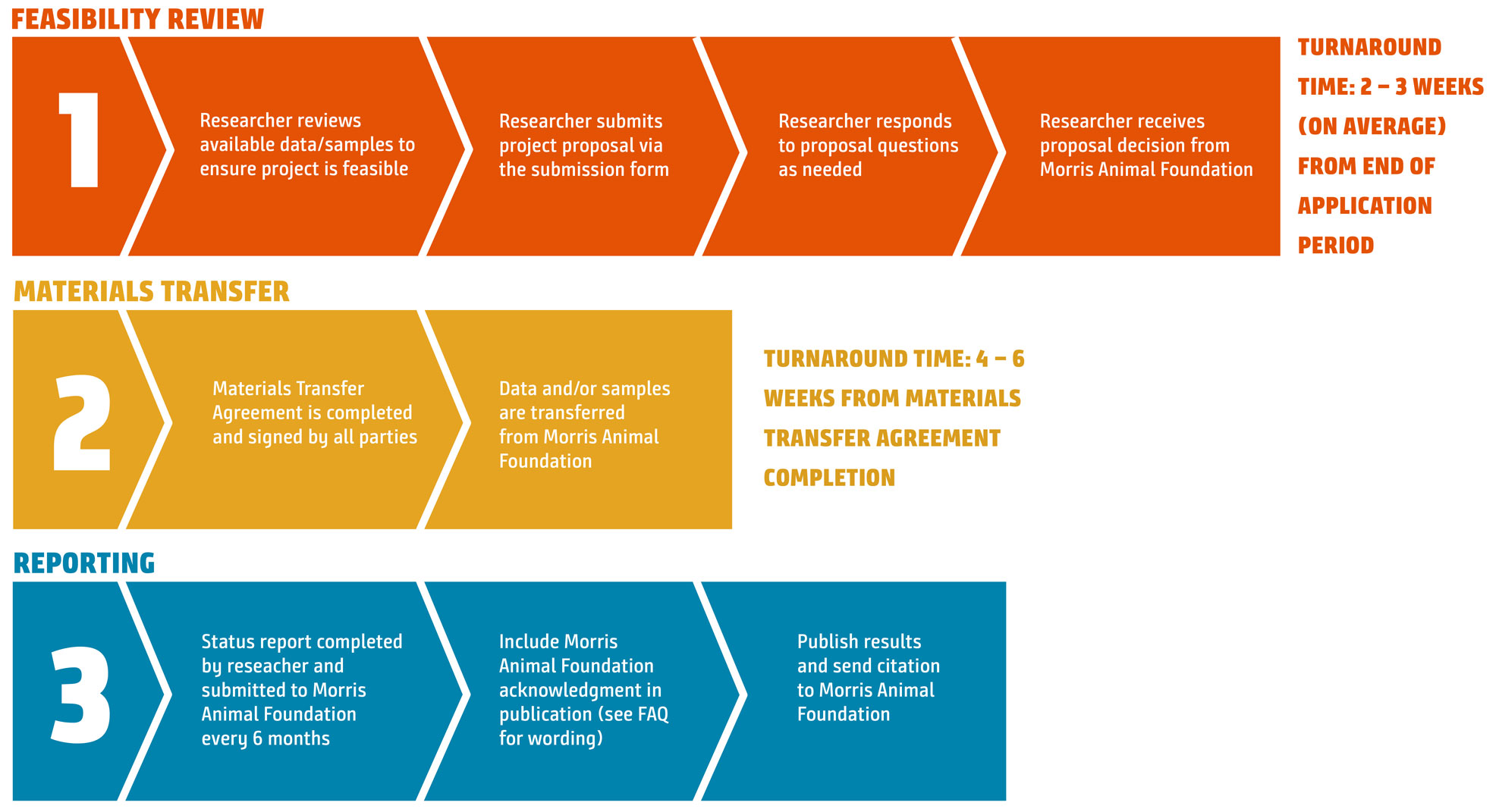 AVAILABLE DATA
Below you will find the demographics that will be shared with you.
Dog ID
Name
Study year
Date of birth

Enrollment date
Anniversary date
Study status
Enrollment end date (if applicable)

Sex status
Coat color
State of residence
Annual Owner Questionnaire contains information on each dog's lifestyle, travel history, reproductive history, physical activity, over-the-counter medications, at-home dental care, grooming history, diet and feeding practices, environment, living conditions and exposures, flea/tick and heartworm preventives, and a behavioral questionnaire (C-BARQ).

Annual Veterinarian Questionnaire includes data on each dog's medical history, physical exam findings including height at withers, weight and body condition score, a map of superficial masses, vaccination history and prescription medication history.
DATA DASHBOARD
AVAILABLE SAMPLES
For academic, nonprofit and government organizations, the following samples are available at this time. (The Foundation reserves the right to revise sample access as needed.)
| | | | | |
| --- | --- | --- | --- | --- |
| SPECIMEN | STORAGE CONDITIONS | BANKED PRODUCT | DISTRIBUTION AMOUNT | VISIT COLLECTED |
| GENOMIC DNA | -80 °C | DNA ALIQUOTS ADJUSTED TO 100 NG/ µL | 1-5 µG | BASELINE |
| WHOLE BLOOD | -80 °C | 1 ML ALIQUOTS | 250 µL | NON-BASELINE VISITS |
| URINE | -80 °C | 1 ML ALIQUOTS | 1 ML | ALL ANNUAL VISITS |
| HAIR CLIPPING | -20 °C | 1 SAMPLE PER VISIT | 1 SAMPLE | ALL ANNUAL VISITS |
| NAIL CLIPPINGS | -20 °C | 1 SAMPLE PER VISIT | 1 SAMPLE | ALL ANNUAL VISITS |
For potential industry partners, the following samples are available at this time. (The Foundation reserves the right to revise sample access as needed.)
| | | | | |
| --- | --- | --- | --- | --- |
| SPECIMEN | STORAGE CONDITIONS | BANKED PRODUCT | DISTRIBUTION AMOUNT | VISIT COLLECTED |
| GENOMIC DNA | -80 °C | DNA ALIQUOTS ADJUSTED TO 100 NG/ µL | 1-5 µG | BASELINE |
| WHOLE BLOOD | -80 °C | 1 ML ALIQUOTS | 250 µL | NON-BASELINE VISITS |
| SERUM | -80 °C | 1 ML & 250 µL ALIQUOTS | 250 µL | ALL ANNUAL VISITS |
| URINE | -80 °C | 1 ML ALIQUOTS | 1 ML | ALL ANNUAL VISITS |
| FECES | -80 °C | 1 ML ALIQUOT PER VISIT | DISCUSS WITH STUDY TEAM | ALL ANNUAL VISITS |
| HAIR CLIPPING | -20 °C | 1 SAMPLE PER VISIT | 1 SAMPLE | ALL ANNUAL VISITS |
| NAIL CLIPPINGS | -20 °C | 1 SAMPLE PER VISIT | 1 SAMPLE | ALL ANNUAL VISITS |
Frequently Asked Questions
APPROVED APPLICATIONS
| | | |
| --- | --- | --- |
| PI NAME | AFFILIATION | TOPIC |
| Trepanier, Lauren | University of Wisconsin-Madison | Environmental Chemical Exposures in Golden Retrievers with Lymphoma |
| Morris, Kevin | University of Denver | Exploring the impacts of Social Determinants of Health and Human-Animal Bond on compliance and retention in Morris Animal Foundation's Golden Retriever Lifetime Study |
| Wisnieski, Lauren | Lincoln Memorial University | What factors are predictive of heartworm preventative medication adherence and development of heartworm disease in golden retrievers? |
| Ruple, Audrey | Purdue | Predictors of compliance following baseline |
| Boyko, Adam | Embark | Coefficient of inbreeding and reproductive outcomes |
| Jeffry, Unity | Texas A&M | Changes in routine bloodwork over time |
| Kubas, Elizabeth | Ethos | Intestinal parasite prevalence at baseline, risk factors, and clinicopathologic changes |
| Stern, Josh | UC Davis | Taurine deficiency |
| Wood, Geoffrey | Guelph | Blood microRNA profiling for early lymphoma detection |
| Raffan, Eleanor | Cambridge | Genetics of obesity |
| Loy Son, Natasha | Ethos | Comparison of clinicopathologic data in juvenile golden retrievers in relation to body condition |
| Wingerd, Molly | Ethos | Raw diet and blood biochemistry changes |
| Luethcke, Ross | Wisconsin | Lymphoma and proximity to environmental pollutants |
| Miller, Chris | CU Denver | Fecal microbiome and obesity |
| Sawatzki, Kaitlin | Tufts | Optimizing a COVID PCR test |
| Raditic, Donna & Bartges, Joseph | UGA | Advanced glycation end products and diet, aging, obesity |
| Rao, Sangeeta | CSU | Infectious disease in young dogs and antimicrobial use |