Back to Stories & News
September 30, 2021 – August 2022 marks the 10th anniversary of the Golden Retriever Lifetime Study! Each month as we count down, we're profiling one our many amazing Study participants.
19 is more than enough for this Study veterinarian!
For Dr. Mike Lappin, participating in the Golden Retriever Lifetime Study is a capstone project of sorts in his long and rewarding veterinary career.
Dr. Lappin confesses he was a standard poodle guy before marrying into a family of golden retriever fans. He quickly became immersed in the breed and was soon tapped to sit on a variety of breed club boards.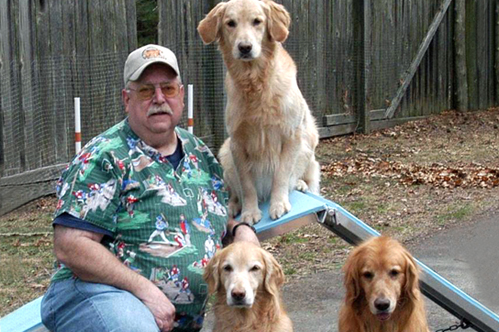 "I was on the board of directors for the Golden Retriever Foundation and we were talking about investing money in a research project," said Dr. Lappin. "A longitudinal study came up as a possibility in our discussions and we got a proposal from Morris Animal Foundation who was getting ready to launch the Golden Retriever Lifetime Study. Things just kind of snowballed from there."
Dr. Lappin put his considerable energies into helping the Foundation recruit some of the earliest participants, encouraging his own patients to enroll. Nineteen Study dogs have crossed the threshold of his clinic, making Dr. Lappin the current record holder for most patients in the Study.
Dr. Lappin also is the Foundation's go-to guy when the Study team needs help. Whether it's beta testing the new questionnaire portal, helping with the Annual Parade of Heroes at the National Golden Retriever Specialty, or stepping up for media interviews, Dr. Lappin happily jumps in to help wherever he's needed. With his winning smile and enthusiasm – and crazy scrub tops – he's a well-known face among Study participants.
As the Study enters its 10th year, Dr. Lappin admits he's a bit wistful thinking about the active data-gathering phase of the Study coming to an end. But he has high hopes for what the Study will do for canine health as focus moves to data and sample analysis and all the associated research projects in progress now and in the future.
"I'm hoping that we can get a handle on why these dogs get cancer more frequently than some other breeds," said Dr. Lappin. "We may not have an answer for why they get this cancer or why they get that cancer, but maybe some idea of what exposures or treatments are protective and what increases cancer risk. I hope we can make our goldens live longer and have good happy lives without a lot of disease."
"We're playing a big part in learning more about dog health, and not just in golden retrievers."
Veterinarians like Dr. Lappin have been essential to the success of the Study, whether they have one or 19 participants. We can't say thank you enough to Dr. Lappin and all the other veterinarians and veterinary teams who've invested countless hours setting up appointments, packaging samples and filling out questionnaires. We couldn't do it without you!