Back to Stories & News
May 15, 2018 – When Dan and Jill Lykins picked out Hope from a litter of puppies, they knew she was destined for some very noble causes. Not only did Hope become a hero in the Golden Retriever Lifetime Study, she also trained to become a therapy dog, currently certified thru Therapy Dogs International.
As it turns out, Hope is a natural and has just the right personality for the job. She loves working with kids, and her favorite therapy sessions are at the library. When children are having difficulties reading aloud to humans, Hope patiently listens to them without judgement. When not at the library, Hope has other therapy duties, including working at hospice and helping with special needs children.
In many ways, it's not surprising Hope turned out to be such a fantastic therapy dog. It's in her genes! Her father contributed to other litters in which several of the puppies became therapy dogs. And, just recently, the owner of Hope's mother decided to begin training her for the job as well, now that she has finished having litters of her own.
Hope's full name on her AKC certificate is Our Beautiful Hope. This name goes hand in hand with another one of the Lykins' golden retrievers, Grace. Supporter Grace also works as a therapy dog. The Lykins wanted to have dogs that bring Hope and Grace to others. Because of their hard work, dedication and two amazing dogs, they are doing just that. Additionally, the family has two more dogs, a golden retriever named Tess and a mixed breed named Honey.
Hope has some unique qualities for a golden retriever, as well as the typical ones. Unlike many goldens retrievers, Hope is a serious dog and rarely wags her tail. She also responds to a special command; if Jill says cuddle, Hope will snuggle up to Jill with her chin against her neck.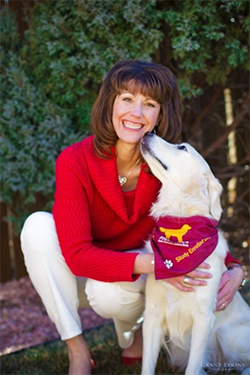 Although Hope is decidedly not fond of loud noises, she still loves riding the gondola up the mountain with her family to go for fun hikes. Being out in the Colorado mountains seems to outweigh the worrisome gondola sounds. Hope also is very feminine, with Jill believing Hope would be a very "girly girl" if she were human. In true golden retriever fashion, Hope loves going for walks, loves to be close to and touching her people, and loves to jump on the bed, even when not invited.
The Lykins chose their veterinarian, Dr. Seth Rothstein – a golden retriever owner himself – because of his love for the breed, a love he proclaims loudly by the large picture of a golden retriever in his office. 
When the family brought Hope into the office as a puppy for her first set of puppy visits, Dr. Rothstein suggested the Lykins enroll Hope in the Golden Retriever Lifetime Study. He was already a study veterinarian and firm believer in the cause. The Lykins agreed to enroll Hope because they want to make a difference and do what they can to increase the health and longevity of the breed.
Hope – we wish you many more years of health and happiness doing what you do best – bringing "hope" to your community and your loving family! Thank you for being a Hero.
By Nancy Sexton
Golden Retriever Lifetime Study Participant and Volunteer, Hero #2703, Scout