Back to Stories & News
November 19, 2019 – Animals have a way of inspiring us. That's how Mary Perry, an advocate for Morris Animal Foundation, feels when talking about the animals in her life.
As a way to give back, Mary is running an independent fundraiser that benefits the Foundation. This year, Mary is celebrating the 35-year anniversary of her pet school and hotel. As part of the celebration, Mary is donating a portion of proceeds from client services to help fund the Foundation's animal health studies.
"People forget where things come from and the value of research," said Mary. "I'm hoping not only to raise $3,500 to celebrate 35 years of business by year-end, but also help educate and spread the word to clients about the valuable work Morris Animal Foundation supports."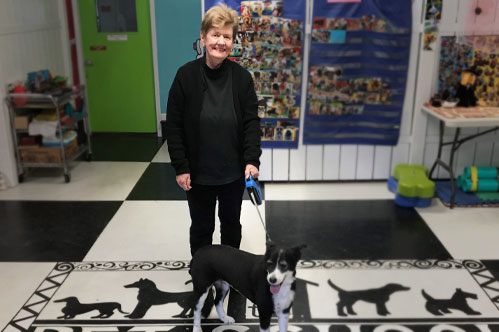 Mary has been involved in raising endangered parrots, breeding West Highland terriers and running her pet school and hotel business. But what opened up another level of inspiration was her involvement with a peregrine falcon watch as a citizen scientist. Working to help these iconic raptors got Mary hooked on research, especially how an investment in science can help animals.
"While I've always loved every animal in my life, this experience inspired me on a whole different level," said Mary. "Helping up close and personal with these birds touched something deep inside me and I just wanted to learn and do more."
Through her research readings, Mary came across an article about the Foundation's Golden Retriever Lifetime Study. The scope of the Study, from data collection on lifestyle, nutrition and health checkups to collection of biological samples really appealed to her. As she dug deeper into the Foundation's website, she learned more about the breadth of the Foundation's research, not only helping dogs, but cats, horses and wildlife, too.
"I was impressed by the historical work the Foundation had done, contributing to early research that led to the development of the parvovirus and feline leukemia vaccines – things we rely on today that keep our pets healthy," said Mary.
For Mary's marveled raptors and her beloved furry clients, we are working everyday to fund the best science to help solve pressing health issues in animals that inspire us every day. You can follow Mary's lead and be a champion for Morris Animal Foundation by making a gift to support animal health research. And, now through December 31, your donation will be matched dollar for dollar, up to $200,000, thanks to a matching gift from members of our Board of Trustees.