Back to Stories & News
December 6, 2018 – Lehua was a talker. In fact, for a horse, she talked a lot. Just ask her owner, Tricia Rohlfing, who would love to hear Lehua's soft nicker again – brief and low-pitched, it was one of the truest ways Tricia knew she and Lehua connected.
Lehua is just one of the many reasons Tricia has been a Morris Animal Foundation donor for the last 17 years, helping to support studies that advance the health of animals everywhere. Including horses like her beloved Lehua. Now, during our end-of-year giving campaign, your gift can help save the lives of animals everywhere, too.
"There are many wonderful organizations to give money to. I choose Morris Animal Foundation because of the great research work they fund that is helping our animals live long and healthy lives," she said.
Tricia bought the black, painted mare when Lehua was 10 years old, and spent the next decade with her. The two practiced natural horsemanship, a communications method of clearly conveying what the other wants without the use of a saddle or bridle. Tricia found the bond it created was incredible.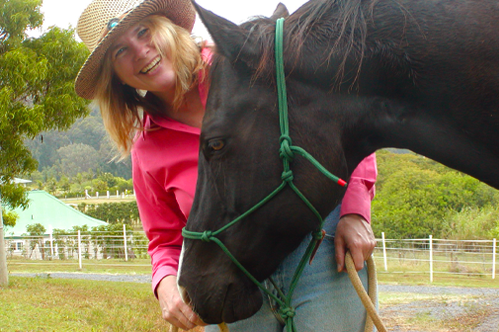 "When I'd ride her, and she'd do something I thought was really cool, I'd say 'Oh, you're so good!' and she would always turn her head around and nicker to me as if to say, 'Yeah, I did something really good,'' said Tricia. "That was so cool to have a horse 'talk' to you like that when you're on their back and I'd never experienced that before in more than 40 years of riding."
Life with Lehua was wonderful for Tricia, except when her beloved horse suffered from colic, which happened about twice a year for a few years. Lehua always rebounded, until last summer when she had a debilitating bout and took a turn for the worse. Tricia had to make the difficult decision to say goodbye to Lehua and their life together.
"I was relieved she wasn't suffering anymore, but she was only 20 years old when she died, and many horses live much longer than that," said Tricia. "She was such a good friend and special partner. It's always hard to say goodbye."
Those special bonds Tricia shares with the animals in her life, and animals around the world, are why she supports Morris Animal Foundation. The Foundation's work in equine health has led to many breakthroughs improving the lives of horses today, including:
Identification of the cause of Potomac horse fever, and development of a vaccine

Colic surgery evaluation

Genetic tests for several devastating diseases

Reproductive research to save the endangered Przewalski's horse

New treatment for foal pneumonia

Genetic testing for lavender foal syndrome

Improve understanding of equine metabolic syndrome

And much more!
We are asking for your help this holiday season to give animals more: more moments, more years and more memories. Please consider making a gift today to help us fund groundbreaking studies that advance the health of animals around the world.
And, now through December 31, 2018 your gift can even be matched dollar for dollar, up to $100,000, thanks to a group of generous donors. With your support, horses everywhere can have more nickers, more trail rides and more time with the people who love them.