Back to Stories & News
May 3, 2018 – Of all the 10 cats Kathleen Gardner has owned in her adult life, she says only one adopted her, a tiger kitten named Louie. He also was the only cat she lost to cancer, at the age of 10, and one of the reasons Kathleen has been a long-time supporter of feline research at Morris Animal Foundation.
Kathleen met Louie in 1994, when he was just a kitten living with her husband's nephew in Nebraska. Louie was fending for himself outside during the day, catching the neighbor's guinea hens. The nephew, then a young, single working man, wasn't home much and realized he couldn't provide Louie the love and care he needed. Louie seemed to realize this, too. After he jumped into Kathleen's car, via the back window, he refused to leave. With the nephew's blessing, Kathleen drove Louie back to her home in Texas.
Louie joined Kathleen's cat family of two brothers, but he wasn't fully accepted right away. No worries, Kathleen and her husband, Dennis, gave him all the adoration he could have wanted.
"We gave him lots of special attention, affirmation, confirmation and time the first few months making sure he knew he was loved and accepted as a part of our family," said Kathleen.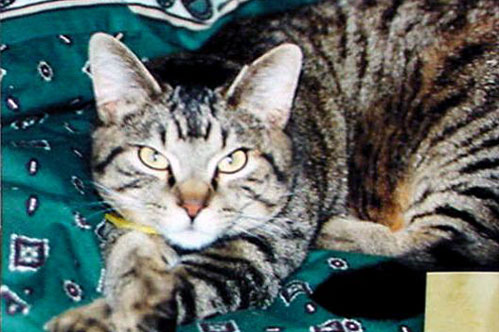 Describing Louie as a kindred spirit, he and Kathleen lived happily together for a decade until he developed a large tumor on his right hind leg. The tumor grew fast and in a position on the upper leg where veterinarians could neither remove the tumor nor amputate the leg. Kathleen made sure Louie was comfortable and able to enjoy the last 10 months of his life until she had to say goodbye.
Kathleen has always loved all animals and is a strong supporter of Morris Animal Foundation. She gives generously to feline research so future generations of animals can avoid the pain Louie felt.
"I'm hopeful that your research will help scientists with insight to invent new treatments, and new solutions for present and future diseases that are related to cancer," said Kathleen.
Kathleen's donations to Morris Animal Foundation are making a difference every day in the lives of cats and animals around the world. Now, during our fifth annual Unite to Fight Animal Cancer campaign, April 1 through May 31, you can help make a difference, too.
Your gift will support cancer research in dogs, cats, horses and wildlife, increasing funding for current and future cancer studies. And, your gift will be matched dollar for dollar by our friends at the Blue Buffalo Foundation, up to $75,000. Make your gift today and help cats and animals everywhere have longer, healthier lives. You can help us create a world where all cancers of treatable and more cures possible.