Back to Stories & News
December 13, 2018 – Emily Lucibello, a Morris Animal Foundation Loyal Friend monthly donor, never imagined she would lose her golden retriever Mea so young to cancer. She didn't know that loss would lead her to the adoption of a new dog, and never expected she would become a participant in the Golden Retriever Lifetime Study. But when one door closes, another opens, and Emily was ready to step into her new role in honor of Mea.
It goes along with Emily being a Loyal Friend, providing a monthly gift to Morris Animal Foundation to advance research into cancer and other diseases in dogs, cats, horses and wildlife. And to support the Golden Retriever Lifetime Study – a study that may one day provide answers to the risk factors that cause cancer, including hemangiosarcoma, and other diseases in dogs.
Mea developed hemangiosarcoma at the age of 4. Hemangiosarcoma is an aggressive cancer of the blood vessel walls that most commonly affects the spleen and heart. Emily had noticed Mea was acting a little off, so she took her to the veterinarian, believing her pup had merely eaten something she shouldn't have. 
Unfortunately, X-rays revealed a direr situation. There was a mass on Mea's spleen and blood in her abdomen. Mea was rushed in for an emergency splenectomy but, like many dogs with hemangiosarcoma, she didn't live long following surgery. Emily was stunned.
"Even though I was aware of hemangiosarcoma, I just didn't expect this," said Emily. "This is a type of cancer you just can't prepare for."
Soon after losing Mea to cancer, Emily knew she wanted to adopt or rescue an older golden that needed a new home to honor Mea. She somehow knew that dog would be someone's beloved pet that needed a new family.
It turned out she was right. A client of Emily's husband had a house full of dogs and knew one of them, a golden retriever named Rhythm, would be happier being the one and only pet in a loving family. The client called Emily and said Rhythm was meant for them.
"Rhythm was exactly what we needed to brighten our lives," said Emily. "I believe Mea's illness, through many twists and turns, brought us two together. Rhythm is the most precious gift I've ever received."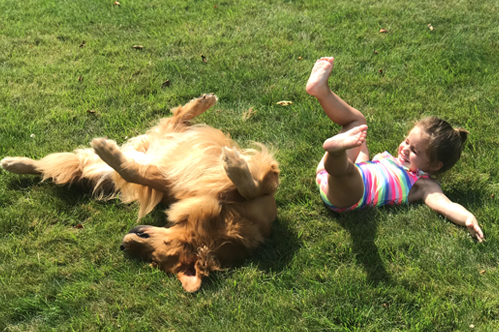 But with Rhythm came a huge responsibility. She is Hero #1945 in the Foundation's Golden Retriever Lifetime Study, the most extensive canine health study in the United States, which follows more than 3,000 golden retrievers, throughout their lives, to identify the nutritional, environmental, lifestyle and genetic risk factors for cancer and other diseases in dogs. Rhythm needs yearly, extensively documented veterinary visits with hair, nail, urine, feces and blood collections. Emily is happy to oblige.
"Being monthly donors, and with Rhythm being a study dog, I thought it was a very appropriate way to honor Mea," said Emily. "We're supporting critical canine cancer research and so much more to let dogs live longer lives. Rhythm is doing her part; now we need to do ours."
Learn more about our work on hemangiosarcoma.