Back to Stories & News
October 19, 2021 – Irish and Blaze may not know it, but they are quite unique when it comes to golden retrievers. Irish (Hero Dog #303) is the oldest living dog enrolled in the Morris Animal Foundation Golden Retriever Lifetime Study at 11 years, 8 months; and Blaze (Hero Dog #3,044) is the youngest, at 6 years, 11 months.
When the Golden Retriever Lifetime Study started in 2012 as a pilot study with 50 dogs enrolled, 2021 seemed a long way off. Fast forward nine years and the Study is going strong, thanks to the dedication of our participants, veterinarians and staff, and goodnatured and patient Study hero dogs! And, of course, the many, many donors who make the Study possible.
The groundbreaking Golden Retriever Lifetime Study is investigating the potential environmental, lifestyle, genetic and nutrition risk factors for cancer and other major diseases in dogs.
"My wife and I are firm believers in the Study," said David Miller, Irish's owner, whose connection to the Foundation runs deep – his father, General George Miller, was a past Executive Director in the 1980s.
"We are longtime golden lovers, and initially enrolled Irish to help this wonderful breed live longer, healthier lives. As the Study developed over time, we learned more of the benefit it may provide to all animals and even humans. This has served to reconfirm our commitment to this very worthy cause."
Blaze is the beloved pup of Dr. Sharon Albright, a former Morris Animal Foundation staff member and veterinarian. Blaze also was the last dog enrolled in the Study.
"The Golden Retriever Lifetime Study is a unique opportunity to explore the numerous factors that influence cancer and disease development in our dogs," said Dr. Albright. "The Study's findings have the potential to influence so many aspects of dog ownership and veterinary care."
Study highlights for this past year include the new Golden Age Project looking at healthy aging; the Golden Oldies Project focused on genetic comparisons between older dogs and Study dogs diagnosed with cancer; new research partnerships with the Purina Institute, Elanco and Cellular Longevity Inc. (dba Loyal); and additional smaller studies nested within the Golden Retriever Lifetime Study.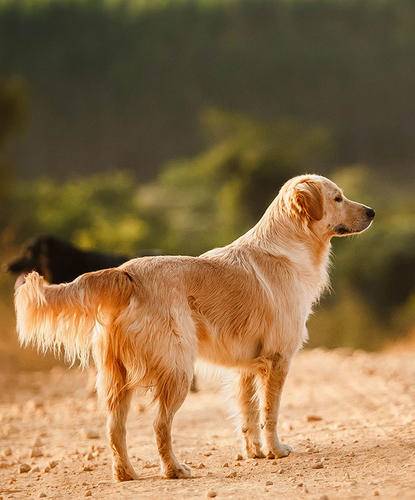 STAY IN THE KNOW
Sign up for our emails and get the latest animal health news straight to your inbox.