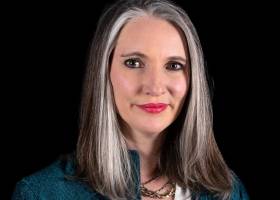 Tiffany Grunert
President & CEO of Morris Animal Foundation
Tiffany learned about Morris Animal Foundation when her dog, Chewy, passed away and a friend donated to the Foundation in his honor. Years later, Tiffany excitedly joined the Foundation's Leadership Team as the Vice President of Brand Strategy in 2017, leaving her position of Vice President of External Relations on the Executive Team of Denver Zoo. She became Acting President & CEO of the Foundation in February of 2018 and was name President & CEO in September of 2018 after an international search.
Since beginning at the Foundation, she has propelled awareness of the Foundation through strategic marketing and communications initiatives and increased employee satisfaction through the development of a proactive talent resource function. She realigned support for the Golden Retriever Lifetime Study by restructuring the Foundation to ensure support across all departments. During her 13-year Zoo tenure, she was known to many in the Denver community as the Zoo's spokesperson and throughout the country as a crisis and issues management strategist through her work with the Association of Zoos & Aquariums.
At home, Tiffany lives with her 12-year-old daughter, Basha, and Pawter, a 5-year-old rescue pup. Recently, she completed service on the board of her daughter's school and she remains active in professional organizations. An environmental advocate, Tiffany once gave up her car to commute to work for a year to build community awareness for alternative transportation. To this day, her bicycle is her favorite way of getting around.