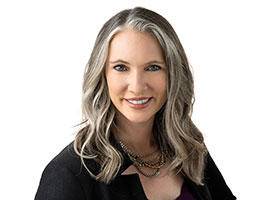 Tiffany Grunert
President and CEO
Tiffany is responsible for the strategy and direction of Morris Animal Foundation, the leader in funding animal health advancement for dogs, cats, horses and wildlife, with a $90 million endowment, $18 million annual budget and 50 staff members.
Tiffany learned about Morris Animal Foundation when her dog, Chewy, passed away and a friend donated to the Foundation in his honor. Years later, Tiffany excitedly joined the Foundation's Leadership Team as the Vice President of Brand Strategy in 2017, and became President & CEO of the Foundation in 2018 after an international search.
Hired during challenging times, she managed culture change to increase employee morale, pivoting to a high-achieving organization. Under Tiffany's leadership, earned revenue increased 40%, enabling the expansion of the Golden Retriever Lifetime Study and the development of a $1M fund to support Australian wildlife affected by wildfires. Turnover was reduced by 30%. Now, Tiffany is leading the development of a new community science program that will put the Foundation in the driver's seat to direct impactful outcomes for dogs and cats. 

In her previous role leading the Marketing & Brand Strategy team at Morris Animal Foundation, Tiffany led the creation of a new brand identity, that has since won more than 40 national and international awards. 

A lifelong learner, Tiffany holds a B.A. in Broadcast Journalism, a M.S. in Political Science, and is an accredited public relations professional (APR). She recently completed a certificate for Women in Governance from UCLA, an MBA certificate from the London School of Economics, and is currently enrolled in eCornell's Business Strategy program and Corporate Director International's ACE certification program.
Tiffany has volunteered in her professional capacity as the Public Relations Chair of the Association of Zoos, a member of the re-authorization committee for the Scientific Cultural & Facilities District Tax, a mentor for women through the Executive Women's Summit and a judge for the Stevie Awards.  
At home, Tiffany lives with her teenage daughter, Basha, and Pawter, a feisty rescue dog. Recently, she completed service on the board of her daughter's school and she remains active in professional organizations. An environmental advocate, Tiffany once gave up her car to commute to work for a year to build community awareness for alternative transportation. To this day, her bicycle is her favorite way of getting around.
Awards:
Stevie Award – Female Executive of the Year 2021
Titan CEO – 2021
Stevie Award – Achievement in Science 2021
Stevie Award – Leadership Team 2021
Stevie Award – COVID Management Response 2021
Nonprofit Times' Best Place to Work 2021
Denver Business Journal's Best Places to Work 2020