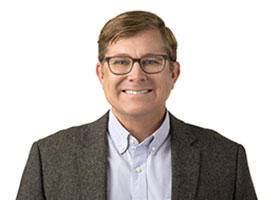 Ryan Welch
Interim President & CEO
Ryan Welch is a philanthropic matchmaker with 16 years of experience leading successful teams and building mutually beneficial relationships that align the philanthropic goals of individuals and organizations. Ryan believes in standing shoulder-to-shoulder with benefactors, treating them as true partners which results in greater impact, joy and excitement. 
Prior to joining the Foundation, Ryan worked for Rocky Mountain Public Media (RMPM) in charge of the statewide development strategy for the entire organization raising over $14.5 million annually in individual, corporate and foundation donations. Most recently Ryan spearheaded the RMPM $30 million capital campaign securing multiple six and seven figure gifts for a new public media center in downtown Denver. 
Ryan joined the Foundation in February of 2019 and lives in Centennial, CO with his wife Courtney, two children Lyle and Vaughn, and a German shepherd dog named Beatrice. In his spare time Ryan enjoys hiking with his family, fly fishing, playing golf and experimenting in the kitchen.