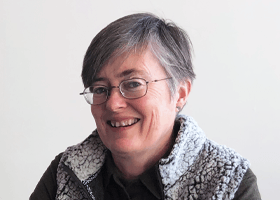 Janet Patterson-Kane
Chief Scientific Officer
Janet is an expert veterinary and biomedical scientist and key opinion leader. With over 25 years research and clinical experience in the fields of equine, canine, feline, and wildlife disease, and a more recent stint in the biotech industry, Janet has built a worldwide reputation as a rigorous and imaginative scientist. Her work has taken her to the Northern and Southern hemispheres, cell culture laboratories, veterinary hospitals, stables, canine and feline rescue centers, and dugong-infested subtropical waters. 
The first woman to hold the prestigious Chair of Veterinary Pathology at the University of Glasgow's Veterinary School, Janet's groundbreaking research work has been recognized by the Royal College of Veterinary Surgeons (United Kingdom) with a Fellowship for meritorious contributions to knowledge. With her eye firmly on the scientific horizon, Janet now brings her vision, leadership, and perspective to the non-profit sector. 
At home, Janet lives in Denver and is tolerated by a 20-year-old cat and three-legged dog. She enjoys memberships of the Denver Zoo, Film Society, and Botanic Gardens, is a keen amateur photographer, and admits to spending some time playing video games.